In February 2007 the Government of Liberia in collaboration with the Corporate Council on Africa (CCA), U.S. Oversea Private Investment Corporation (OPIC), and RJL. & Companies (Robert L. Johnson), hosted an historical event (Liberia Private Sector Investment Forum) in Washington D.C. The forum attracted over five hundred participants, including 200 plus Liberians.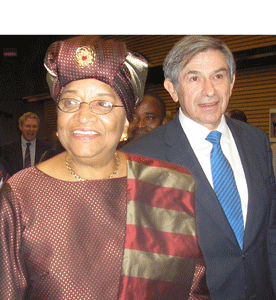 President Sirleaf
&
Mr. Paul Wolfowitz, Former President of World Bank
In the words of CCA, the goal of the forum was to provide a direct account of the new stability engendered by President Johnson Sirleaf and her government, strengthening of business climate in Liberia, and the opportunity for diverse investment. Accordingly, the forum succeeded in highlighting each of the vital areas. Moreover, the following significant deals were announced; some of which have already been signed and established:
1. An Open Skies Framework agreement between the governments of the United States and the Republic of Liberia. To facilitate travel between the United States of Liberia, and give preferential treatment to companies operating within the borders of Liberia, and the United States.



2. A bilateral Trade and Investment Framework (TIFA) between the United States and the Republic of Liberia. It purpose is to help address issues such as the implementation of the African Growth and Opportunity Act (AGOA), trade capacity building, intellectual property, labor and environmental issues, and the removal of impediments to trade and investment flows between the U.S. and Liberia.



3. The announcement of a $30 Million fund between the RLJ Companies, and OPIC. The Liberia Enterprise Development Fund (LEDF) is intended to provide capital investment and support to promote private enterprise and job creation critical to rebuilding social, political and economic foundations in Liberia. Additionally, it is expected to foster stronger linkages between the African American Community and Liberia.



4. The United States Trade and Development Agency (USTDA) Grant Announcement for the Mount Coffee Hydro Plant in Liberia. It provides Liberia with a grant of $400,000.00 to assist in developing the country's power sector, fund technical and economic feasibility of the reconstruction and expansion of the Mount Coffee Hydro Plant.


FACILITATING FOLLOW-UP
During the February 2007 forum, there were some companies that indicated their desire to engage in some form of business in Liberia, and there were also multilateral and state sponsor organizations that indicated their readiness to empowered Liberian entrepreneurs. Prominent amongst those were:

1. BHP Billiton - $119 Billion dollars market cap mining company, and a leading global resource iron ore producer. BHP expressed an interest in actively pursuing investment opportunities in Liberia by evaluating iron ore prospects, seeking access to infrastructure, and exploring opportunities in other commodities.



2. Sofitel Capital & Orion Energy. Sofitel Capital awarded Orion Energy a $30M dollars loan to finance the development, construction, and operation of a 28MW Independent Power Project in Liberia.



3. Equatorial Biofuels. Formerly Nardina Resources, PLC. Acquired 100% of Liberia Forest Products (LFP). LFP holds management agreements and permits covering over 700,000 hectares of land in Liberia with commercial agricultural potential, particularly for the cultivation of oil palms. The permits held by LFP include existing established oil palm plantations of over 8,000 hectares. Initial project scope indicates the permits include over 150,000 hectares of land suitable for the establishment of productive oil palm plantations. Equatorial BioFuels proposes to develop a large scale, vertically integrated oil palm and biofuels project centered on the permits.



4. U.S. Oversea Private Investment Corporations (OPIC). Foster economic development in new and emerging markets, and helps U.S. Businesses and other foreign partners invest overseas. It has a Political Risk division that insures U.S. investors against political violence, expropriation of assets, and the ability to convert local currencies into U.S. dollars. Additionally, through its finance unit, it provides financing through direct loans, and loan guaranties for medium and long-term private investment ranging from $100,000.00 to $250 million dollars. Lastly, through its investment fund, it supports the creation of privately owned and managed investments that make direct equity and equity-related investments in new, expanding, or privatizing companies.


Some of the questions that will be address with regards to the status of these companies are: Were these companies successful in engaging the government of Liberia? Are they encountering any problems? What in roads have they made? What lessons have they learned? How can we ensure that the government is honoring its side of the bargain? Do we have an independent group that monitors the government approaches, and responses to these potential offers, and investors? How do we gauge government performance with regards to how it engages proposals, and opportunities? Is the regulatory landscape conducive, or transparent with regards to unnecessary impediments? Are the incentives succinctly explicit, and available?

SCALING EXPECTATIONS
Now that we have managed to subside our civil strife, how willing is the government and the people of Liberia to provide the needed infrastructure, and regulatory framework to foster post conflict private sector development? It is no secret that Liberia is suffering from disproportionately low levels of private investment in infrastructure, with only small-scale service providers likely to emerge. It is also no secret that most Liberian entrepreneurs are pre-dominantly trapped in the low-productivity sector (informal sector) with little access to financing opportunities, and the opportunity to compete with the formal sector, or gravity towards the formal sector.

For instance the government recently pronounced its desire to privatize state owned enterprises or public corporations, but there is no public data on how to proceed with the process, or engage the government. The government must begin to look to its own citizen, both locally and abroad when it comes to engaging the private sector. The government must also develop guidelines on how to engage the process of privatization more explicitly. Which agency does an interested party contact? What are the requirements? These have to be made explicit to ensure transparency, accountability, and the avoidance of frustration.

ACTUALIZING OPPORTUNITIES
To maximize the benefits of these follow-up forums, Liberians have to challenge themselves, be strategy, and think big. Some of the areas that could attract partners are Private Investment Cooperatives for farming (Cocoa, coffee, rubber, palm oil, rice, sugar cane, and other fruits), gas or petroleum distribution and convenience stores, franchise hotels, and entertainment establishments (Fast food, cinema, water park, etc), and housing and urban style development (Developing gated communities, condominium, and mixed used establishment).

Other areas that are of interest include small scale manufacturing with emphasis on locally consume products such as salt, sugar, toilet accessories, zinc, glass, cement, etc. You do not have to be a businessperson, or business minded to attend this forum. However, you must think business when you attend, because you might encounter people that could motivate, or ignite the potential within you to do business, or conceive a business idea. Moreover, participants need to know what is available, and how to access what is available in terms of opportunities, resources, and partnership.

Liberia has a free market economy and has no legal barriers preventing foreign investment, except for those laws preventing foreign ownership of land, with the requirement that only person of Negro descent can be a citizen. However, companies can lease land up to 50 yrs, and a company of Liberians majority ownership can buy and own land. A Foreign company may do business in Liberia as a sole proprietorship, partnership or corporation. A new business may be incorporated locally or abroad, and its ownership can be a combination of foreign and local ownership or foreign owned. All New businesses are required to register with the Ministry of Commerce and Industry. In addition to registering, companies that want to have a local presence can incorporate by contacting the Ministry of Foreign Affairs.

There are tax, and other incentives available for companies in the areas of manufacturing, agriculture, forestry, oil exploration, mining, etc. See the National Investment Commission website www.libnic.net/business_in_liberia.htm for details. It is obvious that financing options is a challenge for many start-ups, and existing businesses. It is also more challenging for a country just out of crisis. To deal with this situation, participants are encourage to leverage these resources:

U.S. Oversea Private Investment Corporations (OPIC): OPIC foster economic development in new and emerging markets, and helps U.S. Businesses and other foreign partners invest overseas. It has a Political Risk, it provides financing through direct loans, and loan guaranties for medium and long-term private investments, and supports the creation of privately owned and managed investments that make direct equity and equity-related investments in new, expanding, or privatizing companies

Multilateral Investment Guarantee Agency (MIGA): MIGA is a multilateral risk mitigator that promotes foreign direct investment into developing countries by insuring investors against political, and non-commercial risks, mediating disputes between investors and government, advising government on attracting investments, and sharing information through online investment resources. Specifically, MIGA can cover imposition of currency controls, risk of expropriation, loss from breach of contract with government entity, loss due to damage from war or civil disturbance.

International Finance Corporation (IFC): IFC promotes investment in developing countries like Liberia with the intend to help people reduce poverty, and improve their lives by complementing, and supporting projects which are private sector driven, are commercially viable and sustainable, have clear development impact, and meet sound international and social standards. Specific areas of service include; provision of financial products (loans, equity and quasi-equity, and risk management), resource mobilization (syndicated loans, and structured finance), advisory services (Environment, small & medium enterprises, corporate governance, investment climate, and private sector participation).

In Liberia IFC is more focus or interested in the following areas: financial markets (Banking small medium enterprises, and micro-finance initiatives), infrastructure (power generation business, port operations and management, and telecommunication), agric-business (Rubber plantations operations and management, oil palm farming and operations, and forestry), mining (gold mining operations, and iron ore mining operations), and tourism (hotel operations and management). IFC owns 17% of Liberia Bank for Development Investment (LBDI), and has infused over $2M credit facility for business to upgrade their operational capacities.

The Emerging Africa Infrastructure Fund (the "Fund"): The Fund is a unique public-private financing partnership initiated by the Private Infrastructure Development Group ("PIDG"), whose founding members are the UK Government's Department for International Development ("DFID"), the Swedish Government acting through the Swedish International Development Co-operation Agency, the Netherlands Minister for Development Co-operation and the Swiss State Secretary for Economic Affairs of the Government of the Confederation of Switzerland. The Fund represents a new financing approach for the long-term alleviation of poverty in sub-Saharan Africa through combining public and private funding partners and adopting commercial and developmental principles in support of sustainable development and economic growth.

The Fund may offer subordinated or mezzanine debt (second Loan). This generally will be in tandem with the provision by the Fund of a materially larger tranche of senior debt in line with a guideline ratio set at 4:1 (senior: subordinated), and may issue guarantees in respect of senior debt where this facilitates the provision of local currency funding. All the Fund's products are offered on commercial terms, with such terms being determined following a detailed assessment of the borrower's credit and risk profile. The Fund is not a confessional lender and is not able to offer "soft terms (Stated or Low doc)"

Private Equity financing: There is an untapped amount of resources in the private equity market. This unique market has been underutilized by sub-Saharan Africa. Projects ranging from $1M to 500M can easily be finance with the combination of MIGA, and OPIC political risk, and commercial risk guaranties. (One of the primary sponsors of this forum, George Edward Consulting through its subsidiary Gervin & Associates, can be of assistance in this area)

CHALLENGES
One of the greatest challenges facing many investors is the inability to document their business concepts, and or ideas into a marketable business proposal. To engage many of above-mentioned institutions requires organized process that involves feasibility studies, and proposal development. You cannot just walk into these institutions facilities with just a verbal ideal or concept. It is important that you develop a proposal, or seek some professional consultation in this area. (George Edward Consulting through its subsidiary Gervin & Associates, can be of assistance in this area)

The government of Liberia needs to develop, and adopt financing, banking and investment standards that are in compliance with standards and protocols, such as the International Fiscal Association (IFA) anti-money laundering regulations, privacy laws, and anti-fraud legislations. Moreover, financial institutions must be encouraged to adopt international best practices.

We need structures that will ensure that whatever program we initiate to tap into these external resources are transparent, accountable, and will provide the necessary know-how to help manage and sustain these businesses into profitable enterprises. We could use a private entity, or a non-for profit entity that has the technical know-how to provide basic training in areas such as bookkeeping, finance, budgeting, establishing a board, proposal writing, financial management. Additionally, services in the above-mentioned areas need to be provided at the most affordable cost.

We always complain, and whine about the few informed, and or privileged marginalizing the majority, but we have failed to take advantage of opportunities that would discourage those ills when they present themselves. Liberians both in Diaspora, and at home must organize themselves into a responsive network that would support their efforts, and make them relevant. How can we compete positively if we lack the necessary resources, connections, and if we are not organized? Everybody cannot work for government. The idea is to know what we are capable of as individuals in forming sustainable partnerships. "Do not sit, do something in business, and do it well" Act now for the prosperity of Liberia, and the generation to come. See you all at the Forum.

---
Author:
Sunny G. Nyemah - Adjunct Professor Metropolitan University based in Minnesota, Field Vice President Gervin & Associates, (Affiliate of VEC Financial Group), and Member Liberia Investment Forum National Coordinating Committee.
Contact: snyemah@georgeedwardconsulting.com
---
© 2007 by T
he Perspective
E-mail: editor@theperspective.org
To Submit article for publication, go to the following URL
:
http://www.theperspective.org/submittingarticles.html